---
---
KRYPTONITE BOLT-IN UPPER BALL JOINT (For Aftermarket Upper Control Arms) 6 LUG 1999-2018
Fits; 1999-2006 Chevrolet and GMC 1500 2WD/4WD trucks, 2000-2006 Chevy and GMC 1500 2WD/4WD SUVs, *2007-2018 Chevy and GMC 1500 2WD/4WD trucks and SUVs with OE forged steel control arms ONLY!
Part # KR6136
This Ball Joint is compatible with trucks originally equipped with forged Steel Control Arms Only!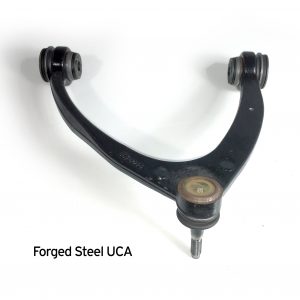 *If your Control Arm does

 

not

 

look like this, See Here.
Includes:
ALL JOINTS ARE PRE-GREASED

1x KRYPTONITE BOLT-IN UPPER BALL JOINT

Mounting Hardware Kit
This ball joint will fit Kryptonite upper control arms for any year or model truck, also Cognito, FTS, CST, Fabtech, and many other upper control arms with a bolt in upper ball joint. Heavy Duty Thick Rubber boot provides extreme protection against the elements for longer ball joint life. Exclusive Grease relief port makes keeping these joints lubricated properly nice and easy. Largest Ball Stud on the market, and the most angle clearance available.
All of our ball joints and rod ends come pre-greased with premium Chevron Ultra EP2 Grease and are ready to install. Servicing will be done  every 7-10k miles. (A small amount of grease is needed per joint, do not over grease)
These Ball Joints are compatible anywhere Moog K6136 is required. 
*Yes, our upper ball joints do carry a lifetime warranty!
(Kryptonite No Fine Print Lifetime warranty)-Kryptonite steering and suspension components are warrantied for life to their original purchaser. This warranty is against any manufacturer defects, premature wear or breakage. Race it, jump it, off road it, wreck it, lift it, I think you get it? We don't care. If you can break it we will replace it. 
Your Kryptonite products must be purchased from an authorized dealer, and must complete warranty registration within 90 days of purchase. Complete Warranty details can be found here.
---